ETUDE HOUSE Princess Happy Ending Disney Collection
We all grew up reading fairy tales, believing in Santa Claus and Princess.
Living in castle, wear pretty dresses, meet prince charming <3
Now, we all can be Princesses!
Etude House
has come out with a new collection;
The Princess Happy Ending series!
It is collaborated with Disney and inspired by our 4 all-time-loved princesses;
Jasmine
,
Snow White
,
Belle
and
Cinderella
. There are new sets of nail polishes, blushes, mascaras, BB creams, lipsticks and eyeliners in this lovely collection. Aren't you excited?! <3
This Etude House series is not available globally yet, only selected countries have them. I have once asked our local Etude House store and they said they are waiting for green light from their headquarters. *cries*
Nearest one I know is our neighboring country, Singapore. However, it can be purchased at some beauty website such as
http://beautynetkorea.com/
and
http://list.qoo10.my/
.
I am just going to give some insight on what are they about.
PRECIOUS MINERAL BB CREAM
This
Precious Mineral BB Cream
is inspired by
Snow White.
Enhanced with SPF 30/PA++, it brightens up our complexion and serves as a BB cream.
The product comes in 3 color options to suit our complexion.
#No2 Light Beight
#W13 Natural Beige
FAIRY GLITTER SHADOW
Inspired by Cinderella, The Fairy Glitter Shadow is in Jelly wet texture. Improved with the Elastic Binder System, this eye shadow has stronger adherence and longer lasting. Comes in 3 colors:
#1 Pink Crystal Shoes
#2 Magic Pumpkin
#3 Evening Party
ROSE CHEEK BLUSHER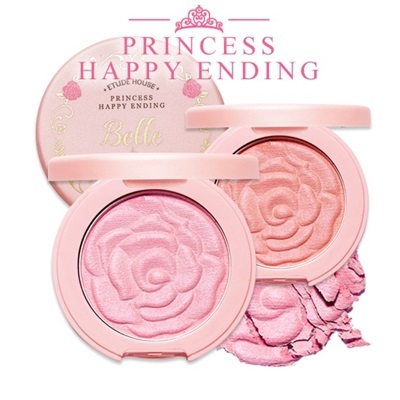 OMG! I want them so badly! Belle's Rose Cheek Blusher uses Straight Dough Method technology to create the natural-look shimmering effect with moisturizing properties.
It has 2 colour options:
#1 Pink Rose
#2 Coral Rose
MASCARA (PRINCESS JASMINE)
Inspired by Jasmine, this product is actually repackaged from
Etude House's Lash Perm Proof Shockcara.
It is supposed to give the longer and fuller lashes effect with super water-proof properties :)
NAIL KIT
The images are self- explanatory.
Each Nail kit represents each Princesses identity and is name after the 4 princesses:
#Snow White
#Cinderella
#Belle
#Jasmine
It has gel nail effect and comes with nail accessories such as sticker and crystal <3
And last but not least, to all Lipstick Lovers!
LIPSTICK
This collection is Belle and Snow White inspired with 2 color choices:
#Snow White (Red)
#Belle (Pink-purplish)
It is supposed glides smoothly on our lips, with high glossy effect <3
This is more or less I can explained as I have not personally tried them out.
Really hope they can come to Malaysia faster :(
disclaimer: Images are from BeautyNetKorea and Qoo10