KJI&CO Emergency Lash RX Part1 [REVIEW]
Curtains protect us from strong glare of the sun and decorates our house.
So is our lashes.
They protect our eyes from harmful elements around us and enhance our beauty.
But with the stress that we are facing in this century, loss or sparse of hair has been an emerging issue. First impression does plays a major role in our society.
I know you can always wear fake eyelashes, like how you wear wigs or hats to hide our weakness but I supposed that only applicable to girls. (Sorry guys)
Probably it relates to my hormonal issue or god-knows-whatever stress I am having, my precious eyelashes are growing sparse, not to mention they fall quite alot recently.
Lash falling is supposed to be a normal process until it gets out of hand.
These days I have been trying
Kji & Co.
's Emergency Lash Rx (stands for Treatment) to solve my issue (hopefully just in time for Christmas *fingers crossed*)
Kji & Co.'s Emergency Lash Rx is actually an cosmeceutical eyelash serum, that contains potent lash enhancing factor and fortified with strengthening botanicals. Brown Seaweed Extract (from the Pelvetia Canaliculata species) is a glyco protein and acts as a natural restructing agent for hair fibres. It acts by increasing shine, volume, manageability, as well as protects fibre from harsh environmental pollutants.
Pelvetia Canaliculata. Image from Wikipedia
Kji & Co.'s Emergency Lash Rx does not contain salt (which can harm our hair)
Besides that, Digitata Laminaria plus Biotin is also used to reactivate hair's microcirculation, and stimulates cell metabolism. Combination of these two ingredience has been credited in delay of hair loss and flavor re-growth.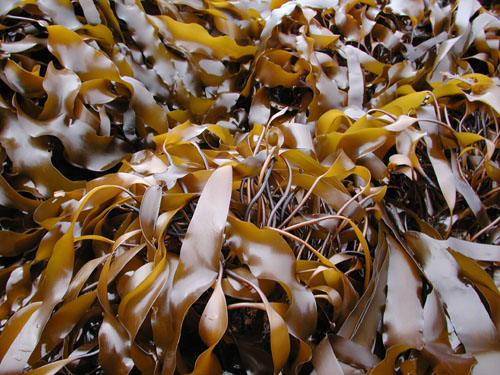 Digitata Laminaria: Image from Wikipedia
You can now rest assured that they are of natural ingredients.
Their intention is simple.
To Protect and Stimulate longer lashes


*The size of the Emergency Lash RX is about of an eyeliner*
The applicator is in a form of brush. Almost similar to our liquid eyeliner but slightly thicker
or a lip brush :)
Application is easy.
It's like applying eyeliner.
Prior to using, you need to twist the bottom *You will hear a click*
For first time usage, you need to twist quite alot to prime the Emergency Lash RX.
(I counted, it's about 100 clicks > <)
Then, slowly the gel-like-serum will show at the tip of the brush.
For the next usage, you only need to twist 1-2 clicks for both eyes :D
I would usually apply the remaining serum at my brows.
Let None to Waste! ;)


Draw a line at the base and lift the lashes as you would apply a mascara.
You can apply your mascara after it dries and can be used anytime, morning or night.
Results should start taking place after 5 days and best results is after 6-10 weeks.
Although Kji & Co.'s Emergency Lash Rx is designed for eyelashes, many respondent has claimed to have good results on their eyebrows!
A tube of Kji & Co.'s Emergency Lash Rx ought to last 5-8 weeks if used daily
After achieving desired beautiful lashes, it is recommended to practice maintenance of 2 to 3 times per week.
I will review this product again after a week or so just to update you on my progress
So, stay tune :)

Xoxo
Juneci